Paris Motor show (Le Mondial de l'Automobile) is the last major Motor Show of 2016 closing a transformation cycle that started a year ago in Frankfurt, followed by Tokyo, Detroit, Geneva, and Beijing. It is also the last Motor Show of a type.
2016 will remain a turning point in the auto industry. In just a few months, most major car manufacturers have announced they will change their main purpose from making cars to providing mobility.
For example, at the press conference of the Paris Motor Show just a few days ago, Akio Toyoda made a vibrant and emotional speech enlarging the purpose of the eponym company to deliver safe mobility to all on top of making "always better cars". He committed to change the auto sector by eliminating all traffic accidents. As Toyota invented the lean production 3 decades ago, it intends to make history again. On stage, in the middle of his speech, a video showed Satia Nadella, CEO of Microsoft, making an inspiring note on the partnership with Toyota. This is an unusual move for a company known for developing almost everything in house.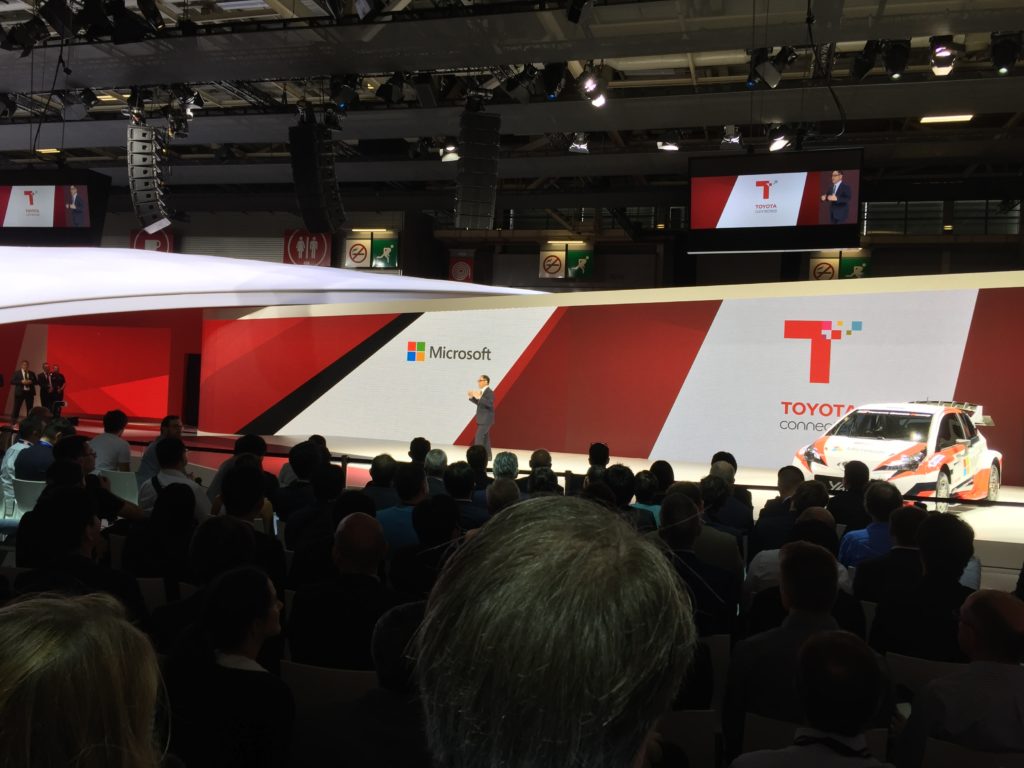 Volkswagen strategic U-turn is even more dramatic. In less than a year, "Das Auto" became "Think New" moving away from a German language product tagline to global experience. I.D, the show car they presented as a milestone as important as Beetle and Golf in their time some 4 and 8 decades ago was not equipped with a diesel engine but powered with electricity. VW too intends to become an actor of mobility. Did Dieselgate eventually save VW from future irrelevance? To this question I asked to a couple of VAG executives, the answer was rather yes.
In Paris, almost all concept cars and future product plans were about electro-mobility in conjunction with autonomy. Most now agree that 2020 will be the beginning of this new era. Tesla, Google, Uber but also Ford, Volvo and BMW made concrete announcements recently. Experiences of so called "robotaxis" or shared autonomous vehicle replacing ownership have already started on 3 continents. There are 2 scenarios, one gradual, and a more disruptive one. In this latter "big bang" scenario, in the same way as digital cameras and then smart phones have become the norm in less than a decade, this new form of shared mobility on demand would become largely adopted from the first part of the 20's. Once customers, who, more and more, see car as a simple tool, understand that cheap, convenient, clean and safe mobility is coming, it is likely that many will wait and postpone or cancel the purchase of a new car. Regulators should accelerate and accompany the move not slow it down as it serves general interest and will help local firms to become global players.
In all cases, technology, environment, customers' expectations and regulatory trends are converging faster than one thought even a year ago. At that time, timing and speed of change were still unclear even if the challenge was already known as I described here in September 2015.
Before Toyota and VW, number one and two in the industry, 2 other major players, American, GM and Ford had announced their "conversion" to mobility around Consumer Electronic Show and Detroit Motor Show early 2016.
Recently, most actors of the industry have partnered with high tech and service companies to try to position themselves as leading mobility providers. Those partnerships were the exception a year ago when I wrote an article in my blog in which I anticipated the move.
The race to become a leading player has started.
Ford did not have a booth at Paris Motor Show preferring the CES at Las Vegas but Samsung or some mobility providers had one. This same week, still in Paris, the first show on "Autonomy" took place with many important participants having keynotes.
"Le Mondial de l'Automobile" is the last Motor Show of its type in Paris, little doubt that the next one, in 2018, will be a Mobility Show. Long life to it!
The picture above illustrates Akio Toyoda during his speech at Paris Motor Show on the 30th of September 2016. He is walking on the stage from a racing car towards the Microsoft logo… a symbol that few would have imagined even a few months ago.